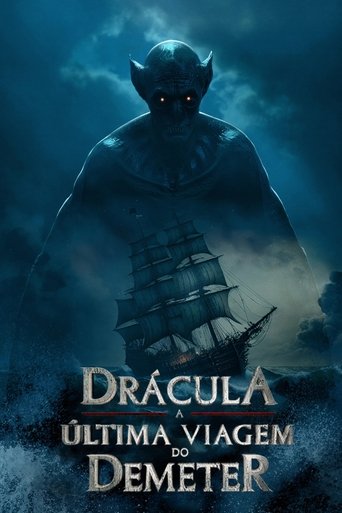 »INFORMAÇÕES«
Título Traduzido: Drácula: A Última Viagem do Deméter
Titulo Original: The Last Voyage of the Demeter Mayhem
IMDb: 6,1
Lançamento: 2023
Gênero: Suspense | Terror
Formato: MKV
Qualidade: WEB-DL
Idioma: Português | Inglês
Legenda: Português
Tamanho: 2.52 GB
Duração: 1h 58 Min.
Qualidade do Áudio: 10
Qualidade de Vídeo: 10
Servidor: Torrent
ADICIONADO DUAL ÁUDIO 10/10!
SINOPSE: Em Drácula – A Última Viagem do Deméter, inspirado na icônica lenda do vampiro Drácula, acompanhamos a terrível história do navio Deméter, que foi fretado para transportar cargas particulares. Estranhos eventos acontecem à tripulação, que tenta sobreviver à viagem oceânica, perseguidos todas as noites por uma presença impiedosa a bordo do navio. Quando o Deméter finalmente chega à costa, é apenas um navio carbonizado e abandonado. Não há vestígios da tripulação. A trama se baseia em um único capítulo do livro clássico de Bram Stoker.
Drácula: A Última Viagem do Deméter Torrent (2023) Dual Áudio 5.1 WEB-DL 720p | 1080p | 4K
---
ASSISTIR ONLINE DUBLADO
---
DUAL ÁUDIO
WEB-DL 1080p Dual Áudio 5.1 (MKV) | (2.71 GB)
Download Magnet

WEB-DL 1080p FULL HD Dual Áudio 5.1 (MKV) | (6.67 GB)
Download Magnet
WEB-DL 2160p 4H HDR Dual Áudio 5.1 (MKV) | (BREVE)
Download Magnet
---
LEGENDADO
WEB-DL 720p (MKV) | (798 MB)
Download Magnet

WEB-DL 720p (MP4) | (1.06 GB)
Download Magnet

---
WEB-DL 1080p (MKV) | (1.40 GB)
Download Magnet

WEB-DL 1080p (MP4) | (2.18 GB)
Download Magnet

---
WEB-DL 1080p FULL HD (MKV) | (7.19 GB)
Download Magnet

WEB-DL 2160p 4K HDR (MKV) | (20.94 GB)
Download Magnet